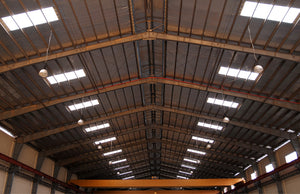 Skylight sheets give you a perfectly seamless roofing line and a natural lighting solution for warehouses and similar applications. 

* Molded to make a perfect match with the ECORIB and ECOHIRIB profiles.
*Designed to give maximum protection against leakage.
*Now with UV protection for longer-lasting use. 

Thickness: 2mm 

Note: Product price/s are exclusive of VAT. 
For questions and inquiries, call 0961-423-0748.